In collaboration with my sister Mary Louise O'Donnell, we present a number of one-hour lectures or talks on historical topics, interspersed with harp music and song. We have given lecture/recitals at the Dublin Festival of History, Reflecting the Rising (2016), World Harp Congress and at events for Heritage week and Seachtain na Gaeilge organised by Fingal and Dublin City Councils.
A Celebration of the Harp / Céiliúradh na Cruite 
The Irish harp, in various shapes and sizes, surmounted by a crown, set against a blue or green background, etched on the brass buttons of military uniforms or sometimes linked with other images such as shamrocks or caps of liberty, has been embedded in Irish politics and culture focenturies. Teresa and Mary Louise O'Donnell trace the history of the Irish harp, its music and its use as a symbol in this unique talk and recital which provides a wonderful insight into the instrument that has formed part of Irish culture and history for over a thousand years.
Sisters of the Revolutionaries: the story of Margaret and Mary Brigid Pearse
This talk focuses on the lives of Margaret and Mary Brigid Pearse, sisters of Patrick and Willie who were executed for their roles in the Easter Rising of 1916. The Pearse sisters have long been overshadowed by their famous brothers but they too travelled interesting paths in life. Margaret was an Irish language activist, politician and educator, working with Patrick in founding St Enda's School and taking the school into her own hands following his execution. Mary Brigid was a musician, teacher, actress and author of short stories, children's stories, and dramas, but did not agree with her family's political activism. Margaret and Mary Brigid never enjoyed a close relationship like Patrick and Willie; however, they both shared a deep affection for their brothers. The talk illuminates Margaret and Mary Brigid's relationship with their brothers, but also the poignant disintegration of their own relationship following the death of their mother in 1932.
George IV, Thomas Moore and the Egans of Dawson Street, Dublin
In August 1821, John Egan, a harp maker operating his business from 30 Dawson Street, Dublin, was appointed Pedal and Portable harp maker to King George IV. This prestigious appointment was an acknowledgement of Egan's innovation and invention in the design and production of harps over a period of two decades. Egan's success and patronage by members of the British royal family provided a crucial entrée into the upper echelons of British and Irish society for his son Charles, who was a composer, arranger, teacher and performer. Charles was appointed professor of harp to Princess Augusta in 1822 and performed regularly for members of the royal family. This talk  will be interspersed with performances of works by Charles Egan, will provide a fascinating account of the Egan family and their transformation of the harp tradition in Ireland in the early nineteenth century.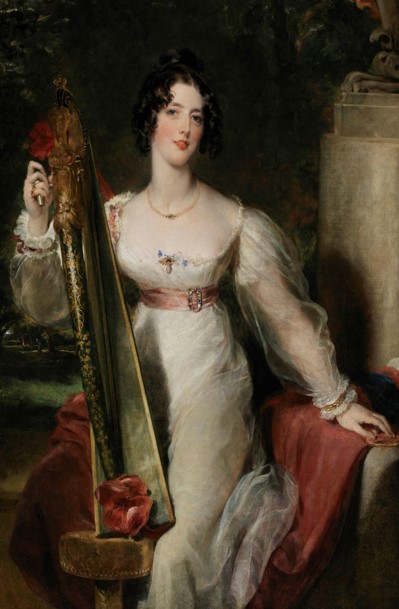 Lady Elizabeth Conyngham (1769-1761) by Sir Thomas Lawrence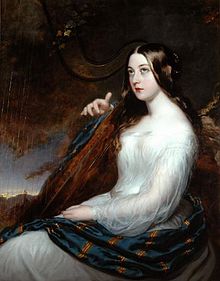 Sarah Curran (1782-1808), harpist and secret fiancée of Irish patriot, Robert Emmet (1778-1803)
William Percy French: His Life and Songs
One hundred years ago, the world bade farewell to the multi-talented, William Percy French (1854-1920). Though probably best known as a writer of humorous songs, he was also active as an editor, concert promoter, water colourist, sketch writer, poet, banjo player, tennis player and stage entertainer. He has left a rich legacy of songs such as Phil the Fluter's Ball, The Mountains of Mourne, Slattery's Mounted Fut' and Mat Hanigan's Aunt'. Many songs were inspired by the characters and places he encountered on his travels around Ireland. This talk/recital invites you into the wonderful world of William Percy French as told in his own words.